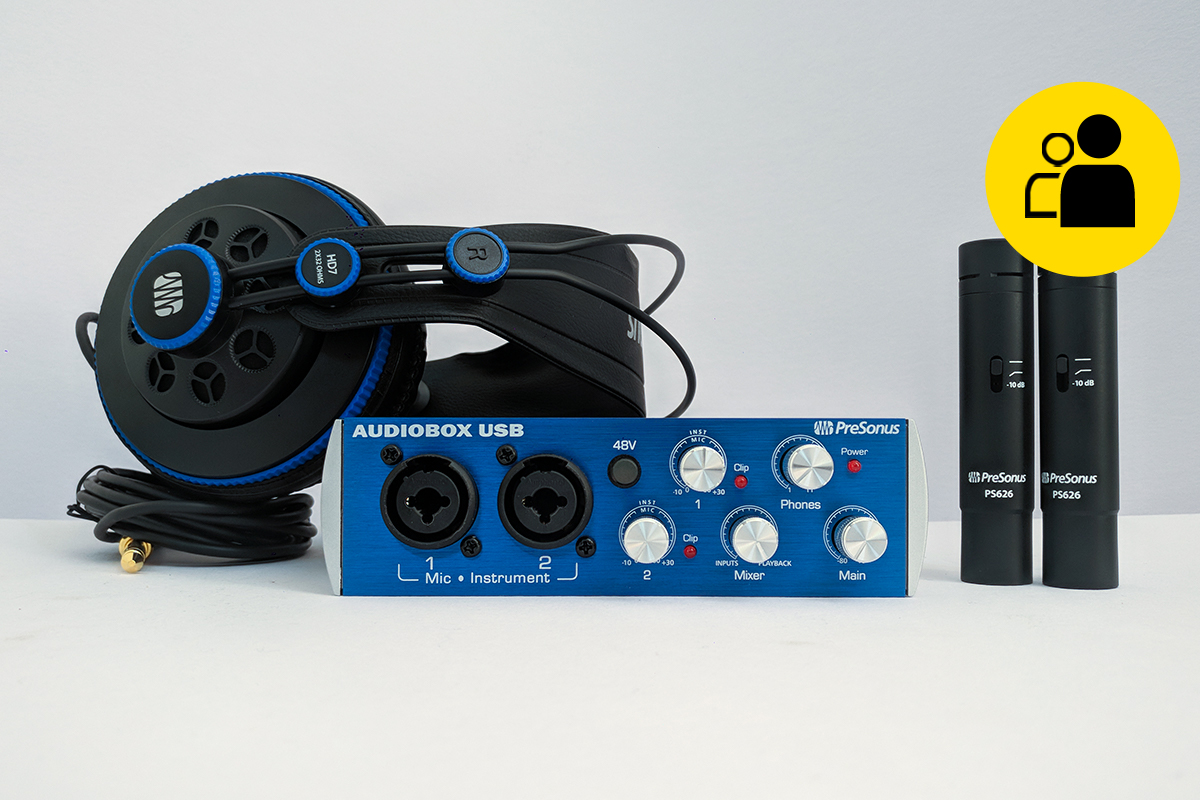 Presonus Audio Box Stereo Bundle (Pre-Owned)
Presonus Audio Box Stereo Bundle (Pre-Owned)
Product Code:
Availability:
Type:
Presonus Audio Box Stereo - Bundle
In Stock
Pre-Owned
Everything you need to record in stereo.
Recording rehearsals and performances in schools, churches, and studios is easy with the PreSonus® AudioBox® Stereo recording kit! Based on the world's most popular AudioBox USB® audio/MIDI interface and award-winning Studio One recording and production software, this special all-PreSonus system includes headphones, a pair of small-diaphragm condenser microphones, and all necessary cables and mounts. Just add a Mac® or Windows® laptop, and you're ready to record in stereo wherever you go!

AudioBox USB: simple, reliable, and portable.
The AudioBox USB is the heart of the AudioBox Stereo recording kit. This simple, handy little audio/MIDI interface has just the right features for basic recording needs, including two combo mic/instrument inputs and zero-latency monitoring, so you can simply plug in and start recording right away. Bus-powered, built to travel, compatible with most recording software for Mac and Windows, and equipped with high-performance microphone preamplifiers and professional-quality, 24-bit converters, the AudioBox USB makes recording easy.

Studio One 3 Artist makes recording a breeze.
No other entry-level recording and production software is this easy to learn and use, yet is capable of creating studio-quality output. Studio One® 3 Artist lets you work quickly and stay focused on your inspiration, offers unlimited tracks and plug-ins, and delivers features not normally found in entry-level DAWs. Access powerful editing tools without wading through menus. Load and save audio clips, MIDI files, and effects by drag-and-drop. Studio One makes it easy!

Capture clear, clean audio with PS626 microphones.
Record bands, choirs, rehearsals, school events, and more with this stereo pair of multi-purpose, small-diaphragm condenser mics. The PS626 offers a cardioid (heart-shaped) pickup pattern in a slender "pencil"-type design that is particularly good for capturing subtle details when stereo-miking acoustic instruments. The AudioBox Stereo kit includes a pair of 15-foot microphone cables and an adjustable mounting bracket that maintains the correct mic angle for optimal X/Y stereo recording.

Hear every detail with HD7 professional headphones.
PreSonus' high-definition HD7 headphones take advantage of a patented, semi-open sound chamber to deliver exceptionally deep low frequencies with a balanced and yet powerful bass punch. Accurate midrange and extended treble response let you pick out the fine details of a mix or track. The lightweight, ergonomic design adjusts to any head size, offering a comfortable listening experience during long recording sessions.